Ingredients
5 tbsp. of CERELAC Mixed Fruits & Soya
2/3 cup distilled water
1 pc. small apple
1 egg
2pcs. small banana
Step by step
Prepare the Ingredients and/or Equipment

Hugasan nang mabuti ang apple.
Mash the bananas and cut the apple into small pieces. Set aside.
Beat the egg thoroughly.

Prepare the Food

In a bowl, add 5 tbsp. of CERELAC Mixed Fruits & Soya and pour 2/3 cup water. Stir until the cereal is smooth.
Ihalo ang lahat ng ingredients sa bowl ng Cerelac.

Finishing Touches and Serving

llagay ang mixture sa molding cups/trays at siguraduhing bite-size ito.
Initin sa toaster for 10 minutes.

Click the button below to download the recipe:
Product used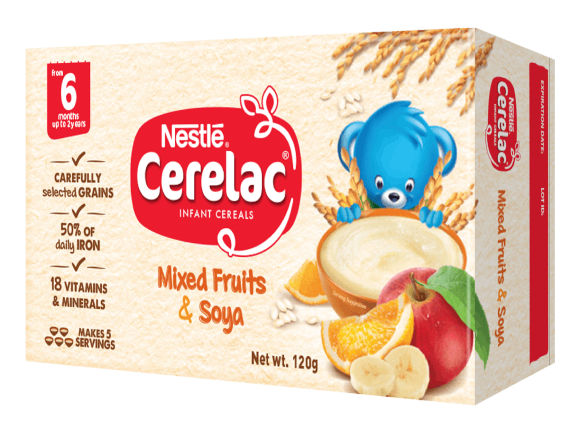 Product
Nestlé Cerelac® Mixed Fruits & Soya 120g
Made with apple, banana and orange!