Ingredients
2 ripe Bananas
1 cup Quick-Cooking Oats
1/2 cup CERELAC Wheat Banana & Milk
2 tsp. Peanut Butter
1 tsp. of Vegetable Oil
A drop of Vanilla
A dash of Cinnamon
Step by step
Prepare the Ingredients and/or Equipment

In a bowl, mash the bananas and add peanut butter, vegetable oil, and vanilla.
Idagdag ang oats, CERELAC Wheat Banana & Milk at cinnamon.
Haluin mabuti hanggang maging sticky ang dough.
Place in a cling wrap and put it in the refrigerator for 30 mins. 

Prepare the Food

After the dough has been chilled, preheat the oven.
Lagyan ng parchment paper ang baking pan.
Place the dough in between 2 cling wraps and roll it out for about 1/4 of an inch thick and use any cookie cutter you have.
llagay ang biscuits sa baking pan and bake for 10-15 minutes at 350 F.

Finishing Touches and Serving

After baking, place the biscuits in a cooling rack.
Serve it to your bulilit! You can store the remaining biscuits in an airtight container.

Click the button below to download the recipe:
Product used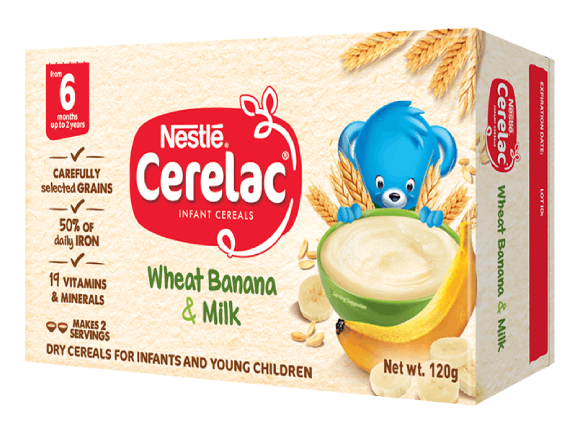 Product
Nestlé Cerelac® Wheat Banana & Milk 120g
Made with wheat flour, banana & milk!