Your child will increasingly become more independent and fearless as he becomes more eager to explore and do things on his own. He gets more exposed to the world, so he needs age-appropriate protection.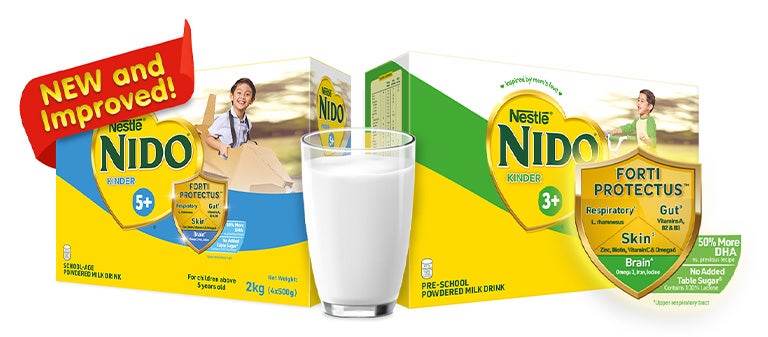 The NEW NIDO® 3+ & 5+ are specially designed by experts with a unique blend of nutrients to give age-appropriate nutrition your toddler needs.
Help your toddler avoid coughs and colds! 1 glass of NIDO® 3+ has up to 1 BILLION Probiotics (L.Rhamnosus) to keep your child from being sickly (with proper diet & exercise) Plus, 50% more DHA for NIDO® 3+ and 38% more DHA for NIDO® 5+ (vs. previous recipe)!
With other age-appropriate nutrients like Vitamin C, Zinc, Iron, Iodine, and Omega 3 & 6.
NIDO® 3+ and 5+ are not suitable for infant feeding and are not breastmilk substitutes.
Respiratory
Up to 1 billion probiotics (Lactobacillus Protectus®)
Brain
More DHA vs previous Recipe. Omega 3, Iron & Iodine
Skin
Zinc, Biotin, Vit C & Omega 6 (Linoleic Acid)
Gut
Lactobacillus Protectus®, Vit A, B2 & B3
Bones & Muscles
Calcium, Magnesium, Phosphorous, Vit D & K
No Added Sucrose
only contains lactose, a natural-occurring sugar
See What #1 Moms Are Saying
SHOP the NEW NIDO® 3+ & 5+!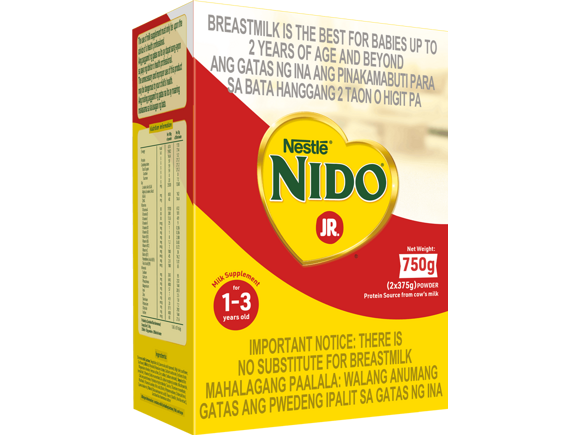 Product
NIDO® Jr.
A milk supplement for children 1-3 years old.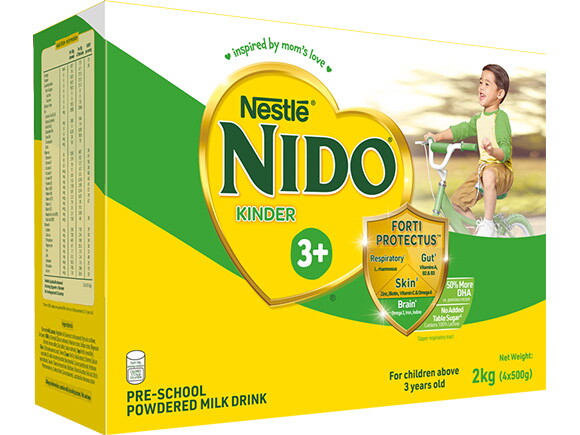 Product
NIDO® 3+
A growing up milk formulated for ages 3 and above.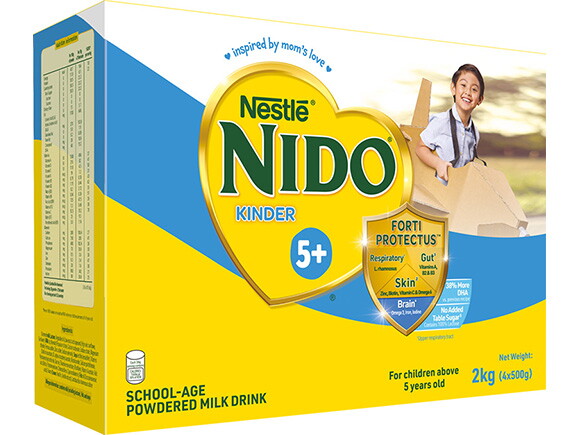 Product
NIDO® 5+
A growing up milk formulated for ages 5 and above.
Explore Toddler ExperTips!
Our Experts
Get to know our local and global experts!
Total Expert Protection
Check out our new & improved nutrients.
Expert Parenting Tips
Get free access to trusted tools, tips, recipes and more!
Growth Milestones
Your complete guide to developmental milestones.
Join
Get full access to expert-backed nutrition support
Feeding guidance

Learn about various feeding options and what each means for you and your baby.

Expert Tips And Advice

Access helpful tips and advice tailored to your little one's development.

Free Samples

Receive tons of free samples from brands you and your baby will love!

Super-Sized Savings

Get Extra savings in your inbox and mailbox as your baby grows.
Not quite what you're looking for?
Try out our new smart search engine