Ingredients
5 tbsp. CERELAC Wheat Banana & Milk 
3/4 cup Whole Wheat Flour
1/4 cup Rolled Oats
1 tsp. Baking Powder
2 Fresh Eggs
3-small Bananas (mashed)
1/4 cup Honey
1/3 cup Olive oil
A pinch of Cinnamon (optional)
Step by step
Prepare the Ingredients and/or Equipment

Preheat oven to 325 F and line muffin pan with liner or lightly grease with olive oil.
Sa isang bow, ilagay ang olive oil at honey at haluin mabuti gamit ang whisk or fork.
Add eggs and mix well.

Prepare the Food

In a bowl, add 5 tbsp. of CERELAC Wheat Banana & Milk and pour 150 ml water.
Stir until the cereal is smooth.
llagay ang mashed bananas, rolled oats, at water.
Add flour, baking powder, and cinnamon. Mix well but do not overmix.

Finishing Touches and Serving

Lagyan ang muffin pans hanggang 2/3 full and bake for 20-25 min or until toothpick comes out clean when inserted to muffin's center.
Sprinkle with CERELAC for additional flavor and nutrients!
Palamigin at ihain kay bulilit!

Click the button below to download the recipe:
Product used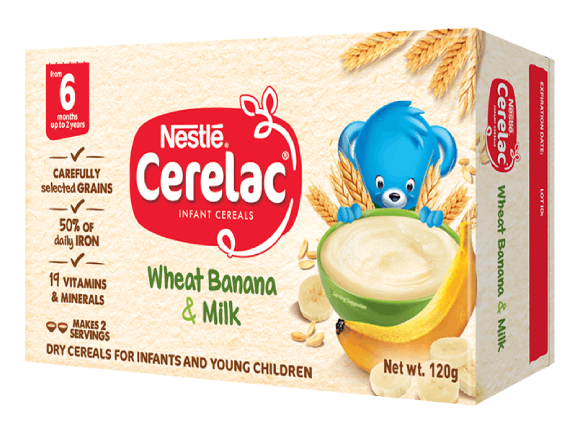 Product
Nestlé Cerelac® Wheat Banana & Milk 120g
Made with wheat flour, banana & milk!